These topics are intermixed because I don't see clear boundaries between them. The following posts include some of my recent tweets:
______________________
Just returned from XXIV Latin American Congress of Microbiology meeting. Learned a lot of exciting science and made new friends from a few different countries. One highlight was meeting Maria Jose Gonzalez and Valentina Carrasco from Uruguay – Two authors of a fun, educational animated microbiology book in Spanish! – November 19, 2018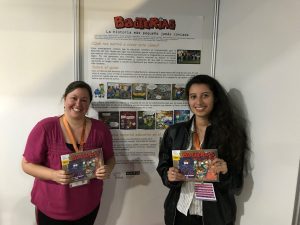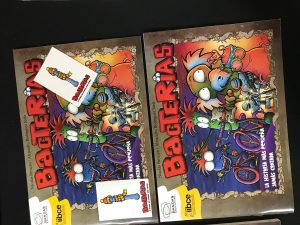 Looking forward to the upcoming XXIV Latin American Congress of Microbiology (ALAM 2018) with the Asociación LatinoAmericano Sociedad de Microbiología / Sociedad de Microbiología de Chile (SOMICH) in Santiago, CHILE – November 8, 2018
______________________
So pleased to see the wonderful support from San Diego voters to develop SDSU Mission Valley, including an Innovation District, athletics stadium, housing for faculty and graduate students, and restoring the river into a community park. This exciting opportunity will give SDSU the opportunity to grow in ways that provide significant, positive impacts in student engagement, transformative research, and economic development. Thank you San Diego! — November 7, 2018
______________________
A nice comment from Rita Colwell (see below) from her visit to SDSU: "I am delighted to see the expansion and the inclusion. Just walking across campus, it's like being at the United Nations, and it's terrific. The students are all interacting in a very positive way. That is a good model for not just the state, but for the entire country. For how people can work together and how students can have opportunities. That's something that is really critical to mention. San Diego State University provides all students, regardless of wealth or lack of wealth, regardless of their national background or racial history, an opportunity to excel. That I think is what America is all about." – October 30, 2018
______________________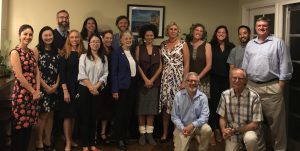 Hosted a dinner for Rita Colwell, the inaugural speaker for a new Women in Science series at SDSU. Rita has made important contributions to our understanding of Cholera, she was the first female director of NSF, past American Society for Microbiology President, and has received many, many other laurels. – October 28, 2018
_____________________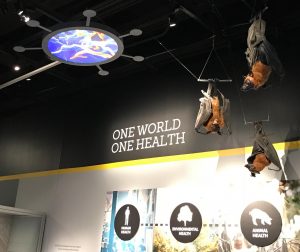 Had an inspiring after hours tour of "Outbreak exhibit at the Smithsonian Museum of Natural History in Washington DC. Engaging explanation of the impact of One Health that will reach/teach millions of visitors. Don't miss it if you're in DC!
And, here's a nice story about the people and ideas behind the exhibit. (cosponsored by ASM) – October 25, 2018
______________________
ScienceCareers: A recent survey by the journal Nature evaluated the percentage of scientists who are satisfied with their jobs = 73% of scientists in non-profit organizations, 71% of scientists in industry, 68% of scientists in government, and 67% of scientists in academia. The take-home point is that "…there are very fulfilling, high-paying jobs outside of academia". – October 25, 2018
______________________
Although most of us who know bacterial minicells manipulate them as simple, non-replicating bacterial factories that are effective tools, a recent article in MSphere suggests that minicells may have a real biological function. – October 24, 2018
______________________
Since I was a child, I've loved to read. I read some fiction, but most of my reading is nonfiction. I enjoy books about entrepreneurship and leadership, as well as books about science topics (both books written for a scientific audience and for the general public). Reading a good novel can be exciting escapism, seeing the world from the characters' eyes. But reading nonfiction can be equally rewarding for the same reasons. I find that I often gain a new perspective about the world from books suggested by friends (and sometimes by wandering the shelves of bookstores, but these opportunities are becoming rarer). A few of the books I've consumed recently and thoroughly enjoyed are listed below. – October 23, 2018
Lawrence Ferlinghetti – What is Poetry?
Maryn McKenna (2017) Big Chicken: The Incredible Story of How Antibiotics Created Modern Agriculture and Changed the Way the World Eats
Lydia Kang & Nate Pederson (2017) Quackery: A Brief History of the Worst Ways to Cure Everything
David Lodge (1988) Nice Work
Daniel Everett (2008) Don't Sleep, There are Snakes: Life and Language in the Amazonian Jungle
Tom Wolfe (2016) The Kingdom of Speech
Witold Szablowski (2018) Dancing Bears: True Stories of People Nostalgic for Life Under Tyranny
Michael Pollan (2018) How to change your Mind
John Lewis (2013) March v1-3
Yuval Noah Harari (2015) Sapiens: A Brief History of Humankind
Nancy Baron (2010) Escape from the Ivory Tower
Barry Bozeman (2017) The Strength in Numbers
______________________
An important insight into the potential cause of the ongoing polio-like disease outbreak, Acute Flacid Myelitis or AFM, was just published by Brown et al. in the journal Mbio DOI: 10.1128/mBio.01954-18. – October 20, 2018
______________________
In response to a tweet from Wellcome Trust, I thought I'd share some of my favorite science related songs. Please share your favorite science songs. – October 19, 2018
It's a Long Way from Aphioxus (Sam Hinton)
Experiment (Cole Porter)
Statisticians Blues (Todd Snider)
Big Yellow Taxi (Joni Mitchell)
The Elements (Tom Lehrer)
Air (Hair soundtrack)
Double Talking Double Helix Blues (Ira and Joel Herskowitz)
Science is Real (They Might Be Giants)
I also include the following song, but the science relevance may be lost on non-geneticists:
How Can I Miss You When You Won't Go Away (Dan Hicks & His Hot Licks)
______________________
Have a cool image related to infectious disease? Enter it in the Infectious Images photography competition. Deadline for submissions is November 23. While you're at it, check out the Infectious Disease Hub. – October 17, 2018
______________________
Heard an interesting talk by Eugene Koonin about what metaviromics has taught us about virus evolution. Previous dogma argued that viruses wouldn't carry translation machinery because these functions are provided by the infected cells. However, metagenomics and classical virology approaches have identified giant viruses that carry tRNAs for all 20 amino acids. This led a person in the audience to ask the question "If viruses carry the core components required for nucleic acid replication and translation, what distinguishes viruses from cells. The answer to this question is often focused on obligate intracellular growth, but there are many obligate intracellular microbes so that is not a very good answer. A much more insightful answer was proposed in a 2008 paper by Wolkowicz and Schaechter in Nature Reviews in Microbiology: the take-home point is that the one feature that distinguishes all known cells from viruses is that cells replicate by dividing and distributing cellular components among the daughter cells, but viruses reproduce by disassembling, making new parts, then reassembling new viruses from the parts. – October 16, 2018
______________________
Bacterial classification is complicated because it doesn't rely on the classical definition of species used in animals (the ability to mate and produce fertile offspring). For many years microbiologists grouped bacteria based upon shared phenotypes such as shape, ability to degrade a particular substrate, or ability to grow in certain conditions (methods that are still commonly taught in microbiology courses). However, there are many ways that organisms can share a phenotype despite being genetically unrelated. Carl Woese recognized that 16s rRNA sequences provide a useful way of comparing Bacteria and Archae — these sequences are conserved enough to identify distantly related bacteria, while variable enough to identify differences between closely related bacteria. This discovery led to attempts to classify organisms based solely on comparisons of 16s rRNA sequences, called operational taxonomic units or OTUs. (Norm Pace argued that given a 16s rRNA sequence, he could accurately predict the lifestyle of the bacteria — a prediction that was later proved to be incorrect.) Whole genome sequencing demonstrated that OTUs miss a tremendous amount of genetic diversity that reflects evolutionary and ecological differences between microbes. For example, different strains of E. coli vary more than some strains of E. coli do from certain Salmonella strains. This problem is not yet resolved, but an interesting recent Mbio paper from the Carl Woese Institute at UIUC proposes a novel approach for classifying bacteria in a microbiome, called Ecophylogenetics (see synopsis here). – October 15, 2018
______________________
For some inspiring perspectives on mentoring, check out the NexGen Voices on Quality mentoring in the October 5, 2018 issue of Science magazine. Key characteristics highlighted are: Individualized support, Academic excellence, Humility and empathy, Collaboration and networking, Respect and trust, Honesty and open communication, Patience and freedom to explore. – October 13, 2018
______________________
Nice Science magazine summary and article on high frequency transduction in Staphylococcus; reminiscent of locked in P22 phage, a tool my lab has used extensively. – October 12, 2018
______________________
Check out Roberto Kolter's piece on Vaccines and the Fight Against Antibiotic Resistance on the Small Things Considered Blog. – October 11, 2018
______________________
Insightful 2018 report on workforce needs in the Life Science Industry; our education system is not particularly nimble, but hopefully these data will inform student training. Some take-home points are described below. – October 11, 2018
There is a growing need for skilled employees, but companies feel that there is a weak pipeline of prepared students with sufficient hands-on lab experience and soft-skills. There is a particularly strong need for employees in quality control and regulatory affairs.
Some key trends include:
Rapid innovations in technology and business will require dramatically different skill sets over time
Soft skills are crucial, including critical thinking and problem solving, verbal and written communication skills, resilience, and teamwork
Regional industry clusters have distinct needs; the convergence of life sciences and technology is one challenge — it is easier for tech industries to recruit life scientists than vice versa.
Companies benefit from close collaborations with academic institutions, noting the need for more scientists and researchers with "one foot in the academic side and one foot in the industry side".
Companies want to increase diversity, and recognize the importance of diversity of experience and thinking to stimulate innovation (seek employees from different universities).
Internships, exposure to industry experiences, and project-based learning is important for training students at all levels.
Keeping current employees up-to-date provides an opportunity for certificate programs.
______________________
Interesting perspective from C&E News on how to deal with a micromanaging graduate advisor – As a PhD student I did two major projects: during the day I worked on a project about fatty acid metabolism that my advisor wanted me to do, but from pre-dawn until 9 AM and in the evenings I did experiments on the glyoxylate shunt that were my own idea. And, my experiments on the glyoxylate shunt opened new research directions for the lab. – October 11, 2018
______________________
Changes in host-specificity of the highly pathogenic H7N9 "bird-flu": From chickens to ducks – October 10, 2018
______________________
Nice review in September issue of Trends in Genetics on what we've learned (and haven't yet learned) from studies on Bacterial Evolution in vitro. A couple of important take-home points are that sometimes genetic changes persist simply because there is no selection, and genetic changes often lead to secondary changes (possibly via epistasis or suppression). These studies reflect conclusions that we had made earlier from studies on pseudogenes and chromosome rearrangements in Salmonella Typhi [Maloy S, Mora G. 2012. Unnecessary baggage. In Kolter R and Maloy S (eds.). Microbes and Evolution: The World that Darwin Never Saw. ASM Press, Washington DC]. – October 10, 2018
______________________
Freakonomics Radio episode 348 makes a compelling case that by funding early-stage research, the government is "hugely responsible" for innovation and entrepreneurship in technology, pharmacology, energy, and many other fields. – October 9, 2018
______________________
While sitting through another "Death by Powerpoint" presentation, I was reminded of the compelling and timeless chapter "Giving a Seminar: Advice to Graduate Students" by John Roth in the 2011 ASM Press book "The Lure of Bacterial Genetics" — good advice for scientists at all levels, not just graduate students, and genuinely non-pedantic fun to read (disclaimer, I'm a co-editor). – October 9, 2018
______________________
Nice interview with Deborah Blum and review of Blum's "The Poison Squad" on NPR today. There were 3 important take-home points: (1) how critical regulations are to protect human health (among other things), and how hard industry will fight to prevent regulations that cost them money even when they understand the hazards; (2) how much impact on the world that a single person can have; and (3) how much scientific ethics have changed since 1902! – October 8, 2018
______________________
Outbreak of murine Typhus spread by fleas in Los Angeles region. – October 7, 2018
______________________
Just finished another exciting and rewarding intensive, full-day I-Corps teaching workshop focused on helping faculty and student teams learn how to commercialize their biotechnology research. October 6, 2018
______________________
Joined SDSU President de la Torre for a visit with the leadership of Cubic Corp. yesterday. I was very impressed with their focus on innovation, customer discovery, and intrapreneurship. Check out their "innovation statement". – October 6, 2018
______________________
Tenure policies evolve very slowly! Although there are compelling arguments for considering outreach, team science, and IP, they are often underappreciated in tenure decisions. One reason may be that it is easy to count (e.g. pubs, course evaluations), but it is much harder to evaluate the impact of things like team science (when manuscript has many authors, how much credit do you give to each), IP (unless of course it leads to a successful commercialization), and outreach (which is often a qualitative vs quantitative question). Another reason is probably that we tend to evaluate others based upon our own experiences, so senior faculty who have been successful based upon traditional criteria are likely to consider these the gold standard of academic success. – October 4, 2018
______________________
It is wonderful to see the 2018 Chemistry Noble Prize awarded for experimental evolution – although she is now buried in Nobel interviews, here's a 2011 interview I did with Frances Arnold – October 3, 2018
______________________
As a student who had many large classes and an instructor who taught a very large class, I'm convinced that large classes can be as engaging and rewarding as most smaller classes … big or small, the student experience really depends upon the instructor. Here is a link to some useful suggestions on How to "make a big class small" from the Chronicle of Higher Education – October 2, 2018
______________________
Great to see the Physics Nobel Prize awarded to a woman! 2018 Nobel Prizes – October 2, 2018
______________________
Although academics have been traditionally rewarded for individual accomplishments, there is growing evidence of the creativity and innovation from Team Science. For more perspectives and references, check out the nice NCI Team Science Toolkit: https://www.teamsciencetoolkit.cancer.gov/Public/WhatIsTS.aspx – October 1, 2018
______________________
Although he died in 1988, Richard Feynman is still one of the most insightful gurus for STEM teachers … and amazingly, he seems to keep tweeting from the grave [https://twitter.com/ProfFeynman] – October 1, 2018
______________________
What do you do next after you've changed the entire entrepreneurship ecosystem? "What most people fail to realize about Lean Startup is that it was never really about being lean, or even about startups for that matter, but a continual search to find a better way to solve problems." – September 30, 2018
______________________
Phage and the development of Molecular Biology – September 29, 2018
Just sit and listen – September 28, 2018
Rising tide lifts all boats, but … – September 28, 2018
Boring talks REALLY do last longer – September 27, 2018
Public-private partnerships and higher education – September 27, 2018
Whence the gut-brain axis? – September 26, 2018
Insight into colony collapse of honey bees? – September 26, 2018
Being a dean isn't as easy as it seems (the "take-home point" is that there is NEVER enough money) – September 25, 2018
What Neil deGrasse Tyson thinks that Higher Education gets wrong – September 24, 2018
Telling your story is more than just giving a presentation – September 24, 2018
Entrepreneurship and leadership – September 24, 2018
Research as a Golden Goose – September 21, 2018